Mt. Nebo
Feb. 10, 2010
The Catholic church maintains the top of Mt. Nebo where we can see what Moses saw when he looked at the Promised Land. Our view was somewhat obsecured by the haze. Hopefully it was clearer when Moses was there.
The old church on the site is being replaced but the mosaic in the the floor is being preserved.
The

symbol beside some selected pictures indicates a larger image is available by clicking the symbol.
Moses' view of the promised land.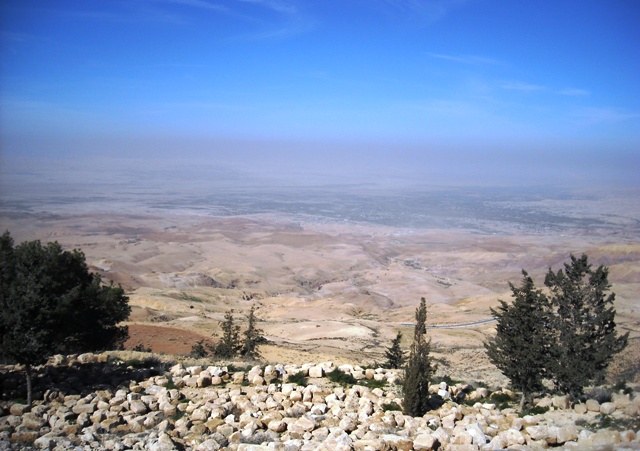 The sign points to places like the Dead Sea, Bethlehem, Jerusalem, Jericho and the Sea of Galilee. Unfortunately it was not clear enough for us to see all of these places.

A monument on Mt. Nebo.

The sign reads
THE ABU BADD
ROLLING STONE USED AS A FORTIFIED DOOR OF
A BYZANITE MONASTERY IN THE OLD VILLAGE OF FAISALIYAH
ONCE KNOWN AS KUFER ABU BADD
(Comment: This type of stone would have been used on Jesus' tomb)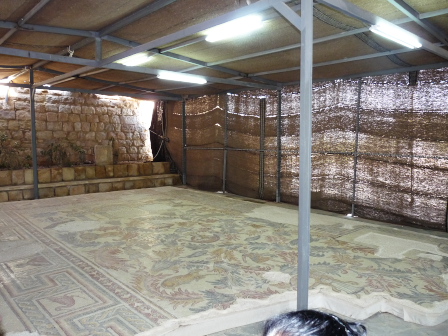 This mosaic was temporarily displayed in a tent.
Return to the main page Recommended
Previous Next
Copyright 2010 James and Danielle Brink. Permission is given for non-comercial use.
Last revision: 4/2/2010