Journey to Marah and Elim
Feb. 7, 2010
| | |
| --- | --- |
| On Sunday morning we set out to Marah and Elim and on to Mt. Sinai. The picture shows a fairly typical roadside view from our bus. There were places with some green but not many. | |
| | |
| --- | --- |
| | Not quite everything is that dry. These are some flowers at a place where we stopped for a few minutes. The secret: drip irrigation. |
| | |
| --- | --- |
| | Marah with Gulf of Suez and Egypt mainland in background |
| | |
| --- | --- |
| Gulf of Suez and Egypt mainland in background | |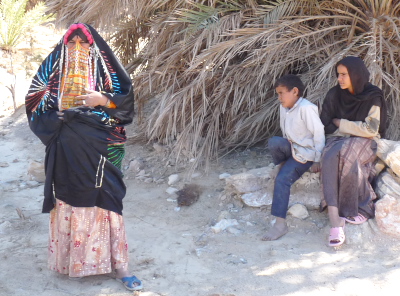 On the way to Elim we noticed that the road was being repaired. At Elim we met a Bedouin woman, together with her son and daughter. After welcoming us, she told us that her home had been washed away in floods about 2 weeks ago. That explained the problem with the roads. Our guide said married Bedouin women dressed very well. Danielle noticed she was wearing eye make up.
Return to the main page Recommended
Previous Next
Copyright 2010 James and Danielle Brink. Permission is given for non-comercial use.
Last revision: 4/1/2010